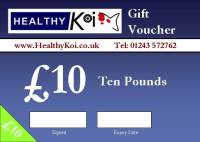 Healthy Koi have just introduced Gift Vouchers in a range of values for the purchase of their services or products. For those of you who are looking for that special present, the Gift Vouchers are available in £5, £10, £20 and £50 units and can be used for the purchase of items from Healthy Koi up to the value of the vouchers. Alternatively, they can be put towards items which cost more.
The vouchers are valid for 12 months from the date of issue and can be used for any of our services or goods in our shop. The vouchers can also be used on our internet site via contacting us but postage costs need to be taken into account for some items.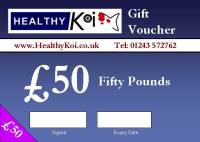 The Gift Vouchers are ideal for:
Christmas presents
Birthdays
Anniversaries
Special Occasions
A 'thank you' to a friend
With Christmas arriving shortly, now is the time to surprise that special person with a Koi related gift. Should you need any help or you require any further information or assistance, please do not hesitate to contact us.
The Healthy Koi Team