Healthy Koi are pleased to announce the launch of the Sansai shower filters. The Sansai shower filters are an attractive and economic way to provide extra biological filtration and aeration to your pond.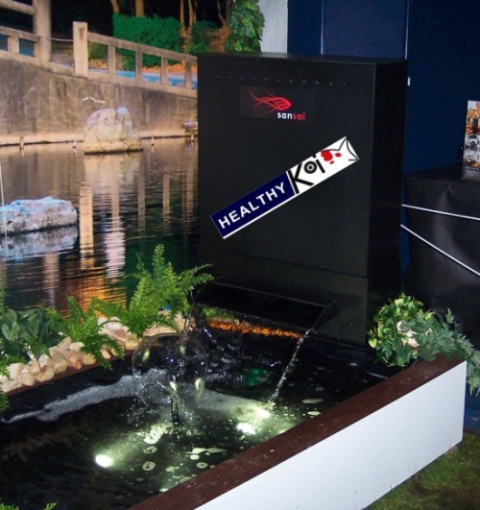 Made from UV resistant high density polyethylene, these filters are less prone to heat loss than metal equivalents. They are available as a small or large model, for 3,000 or 6,000 gallon ponds respectively. Both models have a 50mm inlet and a choice of a weir or 110mm pipe exit. The choice of exit allows you to mount the shower either, beside the pond, with the weir exit, or in your filter area with the 110mm piped exit.
The showers are fed by a pump, preferably after a pre-filter or existing filtration. The water passes through spray bars at the top of the unit, which distributes the water evenly over the filter media. As the water passes through the unit, it will move through the layers of media, splashing and aerating as it descends. At the same time, oxygen is drawn through numerous vent holes, which is used by the bacteria and to aerate the water. After its journey through the unit, the water arrives at the bottom collector unit where it is returned to the pond via a 110mm pipe or weir.
Although these units are available from £395 (Small) and £595 (Large) without media, we would recommend buying the unit with the filter media. Healthy Koi offer the Sansai Small with media for £455 and the Sansai Large with media for £715. The Healthy Koi packages use BioPore filter media, which is an excellent and effective ceramic media. BioPore is extremely porous and lightweight allowing for a larger colony of bacteria and for more biological filtration, than other medias.
For an easy and attractive way to improve your water quality speak to Healthy Koi on 01243 572762 about the range of Sansai shower filters, or go to www.healthykoi.co.uk.