Healthy Koi are pleased to announce that they will again be attending the FBAS Festival of Fishkeeping this year. Said by many to be one of the UK's top aquatic shows displaying coldwater and tropical fish from all over the world, it is the Federation of Aquatic Societies showpiece for the year. In addition to extensive coldwater and tropical fish displays, there will be a Koi festival taking place and attended by the South East, Middlesex & Surrey Borders, Worthing & District and the South Hants Koi Clubs. The Show will be open to the public from 10.00am to 5.00pm on Saturday and Sunday 9th & 10th October, 2010. The event will be held at the Mill Rythe Holiday Village on Hayling Island, Hampshire and the route will be signposted from the A27 Havant junction southwards.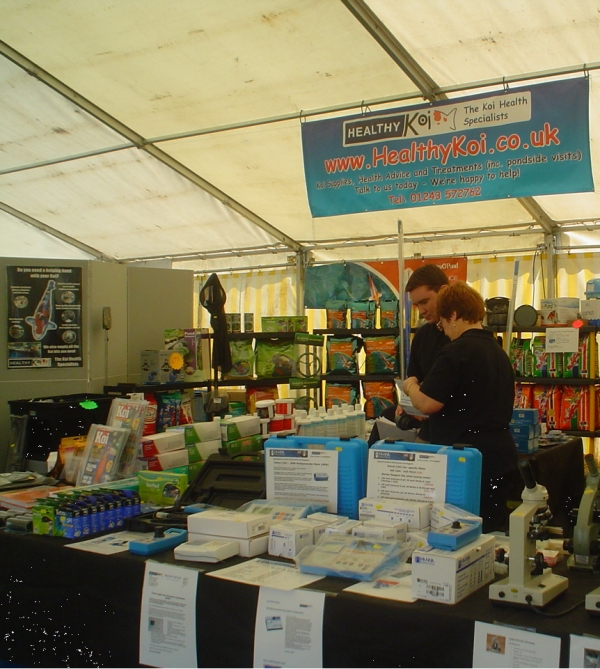 In addition to our water quality management and bio- security roles, we will again be having our trade stand and our enthusiastic and friendly staff will be in attendance to help you with any queries that you may have on Koi health matters and Koi diseases. Our stand will include a full range of Koi health products including microscopes, water test meters, medications, topical treatments, swabs and many other interesting items, all at special show prices.
In addition to our usual products, you will be able to look at some of our range of equipment including the Sansai Trickle filters and a large range of Hanna water testing equipment including continuous meters,
Should there be any specific items you are interested in, please do not hesitate to give us a phone call on 01243 572762 in advance and we will ensure that these will be available for you to look at on show day.