We offer bespoke training programmes in Fish Health and Welfare. These are aimed at the Koi Hobbyist, Koi Dealers and anyone in the fish industry.
We can cover training on:-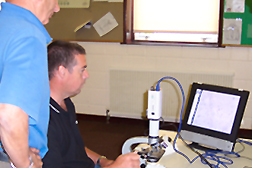 Koi welfare, ensuring your fish has the best environment to live healthily.
Legislation dealing with our fish.
What signs to look out for that there could be a potential health problem.
Using electronic test equipment to carry out water testing, which main parameters to check. Water tests should be carried out in certain situations.
Fish handling, the correct way in netting and handling ensuring no damage or knocks occur.
How you should carry out a Mucous Scrap, using a Microscope correctly and what to look for when trying to identify parasites.
Anaethetising Koi, ensure you administer the right dosages to sedate and bringing the Koi around carefully. What to do if the Gills or Heart stops moving (this can occasionally occur with poorly fish).
Which medications should be used.
Topically treating wounds.