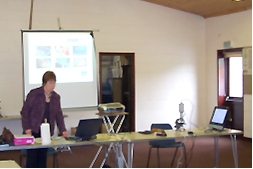 We carry out regular Beginner Classes for the Koi hobbyist or Koi Outlets wanting to learn more about looking after your Koi. "Koi Health and Welfare is not a 'clip-on' to your hobby of Koi Keeping, something you start to think about when your first fish seems to be behaving strangely. By then, it is far too late"."Koi Health & Welfare must start from the time you first think about your new pond. It must be an integral part of your planning, design, filtration, materials, construction, water & air supplies, the stocking, the environmental conditions, quarantine facilities and your planned maintenance regime. Get all this right (which none of us rarely manage), then you will have reached the goal that all of us Koi Keepers strive to achieve and you should have a relatively 'trouble-free' experience."
The first part of the beginner's class will look at aspects such as how to tell if your Koi is unwell, the water supply, testing, the 'medicine chest' & medication, stages of anesthesia, topical treatment, bowling up & lifting, feeding, water quality problems, diagnostics & parasite identification/ microscopy. The latest detection advances and some of the most common problems we have encountered throughout the UK this year.
We will also discuss your water supply, testing, the 'medicine chest', feeding & medication. We will briefly cover the use of anesthetics, topical treatment, water quality problems & parasite identification/ microscopy. We also want to update you about the changes in technology and the tools now available for disease diagnostics, and about the problem areas we have encountered recently.We will have strict bio-security measures in place to avoid mixing Koi from different sources. The welfare of any Koi brought to the event will have priority.