Healthy Koi are pleased to announce that they will again be attending the South East Koi Show this year. Reputed to be one of the UK's top Koi shows, the South East International Show will be held at Parkwood Hall School School, Beechenlea Lane, Swanley, Kent. BR8 8DR on Sunday & Monday, the 29th & 30th August, 2010.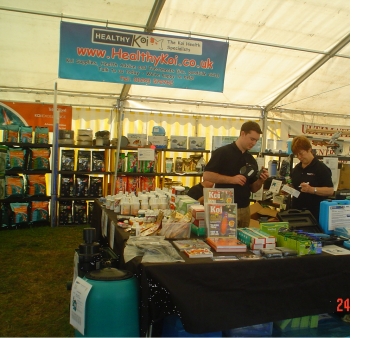 The Show, which has an international reputation for excellence, opens to the public from 0930am until 5pm. It will host an exciting range of Koi trade stands and well as an arena full of stunning Koi.In addition to our usual range of items, we will this year be having an extended display of Hanna electronic water testing equipment and accessories. You will have the opportunity to look at the Hanna 83203 multimeter with improved accuracy. In addition to the single and multi-parameter testing equipment & reagents, we will be displaying a range of hand held Hanna dip meters which are both inexpensive and easy to use. To make testing even easier, take time to talk to us about the provision of a 'Continuous Reading' meter which have become very popular.
During the Show, our enthusiastic and friendly staff will be in attendance on the stand to help you with any queries that you may have on Koi health matters, testing, care, welfare and Koi diseases. Our stand, which will be located in the West Marquee, will include a full range of Koi health products including a new range of top value secondhand serviced microscopes, medications, topical treatments, swabs and many other interesting items, all at special show prices.
Should there be any specific items you are interested in, please do not hesitate to give us a phone call on 01243 698284 or 01243 572762 in advance and we will ensure that these will be available for you to look at on show day.
The Healthy Koi Team