Healthy Koi have just increased their range of pond water testing instrumentation available. It will help to make life easier for both the professional and hobbyist fishkeepers to keep their water quality excellent and their fish disease free.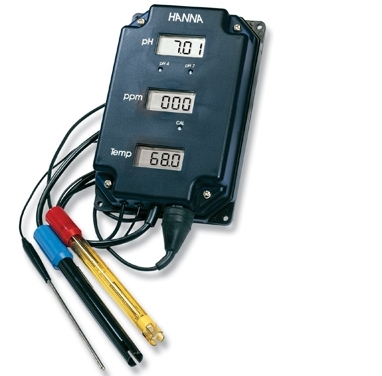 Continuous monitoring, wall mountable meters have now been added to the already impressive range of water testing instruments, which include the popular Hanna C203-2008 multi parameter meter and other hand held meters and dip testers. These new meters allow continuous monitoring of a lake, pond, tank or aquarium and provide the information you require in just a glance. A diverse range of models are offered to suite all budgets, including simplified models for testing a single parameter, up to more professional equipment that allows accurate testing of multiple parameters and displays them simultaneously.
Made by Hanna Instruments Ltd, the continuous monitoring instruments starts with the basic wall mounted pH meter at £70.00 up to the Hanna Combo HI 991405 series Conductivity/ TDS/pH/ Temp meter at £172.50.
The wall mountable Hanna meters are designed for continuous, high accuracy measurements. These microprocessor indicators continuously monitor some of most the important parameters in your pond. The indicators feature a large, dual-level, backlit LCD to give you instantaneous readings of the parameters selected including pH, EC or TDS and temperature, even from a distance.
A range of spare probes are available if required together with many other water measuring instruments. If you cannot see the particular meter on the web site that you are looking for, please do not hesitate to ask.
Healthy Koi Team