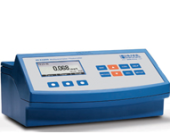 Hanna has just launched the new 2008 model of the C203 water test meter for aquatic use. The C203 multi-parameter meter proved very popular with Koi Keepers. Like its former model, the meter will precisely measure ammonia, nitrite, nitrate, pH, total chlorines, dissolved oxygen, copper and phosphate levels. All of these will have an impact on the long-term health of your Koi.
The new model has many improvements including a far more sophisticated optical system and with a new cuvette compartment, its accuracy is increased. Other improvements include a graphic backlit LCD with a display which takes you step by step through the testing process. When your water testing is complete, the USB connectivity allows you with the optional software to transmit & store all your records on your pc or laptop.
Healthy Koi, who are distributors for Hanna, have been given the first two meters to be imported. Having tested the new instrument and been very pleased with its performance, we have put together a range of packages which allows you to undertake quick & easy professional water testing at an affordable price. The new meter can be purchased on its own for £345 or with reagent starter kits from £415.
If you would like to find out more about the new test meter or see one, contact Healthy Koi on 01243 572762.
©Healthy Koi Ltd